MAKAR got silver in APICTA Award, and stand out in Southeast Asia
2021 APICTA Awards was highly competitive, and MAKAR got an extraordinary result
The APICTA Awards that have been suspended for a year because of the pandemic were hosted by Malaysia in 2021. Therefore, it becomes more competitive than ever, with twice as many participating products and services. There were 15 economies that sent 260 enterprises and students to participate in the competition. Taiwan has achieved a remarkable result and won the most medals among all countries. A total of 19 medals including 4 gold medals and 15 silver medals.
Metaverse is a hot topic that is still being discussed internationally, therefore, there are many more XR-related solutions than in the past years. Considering the uniqueness and various aspects of the product, MAKAR was very honored to gain recognition by judges from different countries and won the silver medal of business service/ information and communication service. We also very much appreciate the guidance and assistance from TCA and the mentor group from the industry experts, allowing us to stand out in the international competition.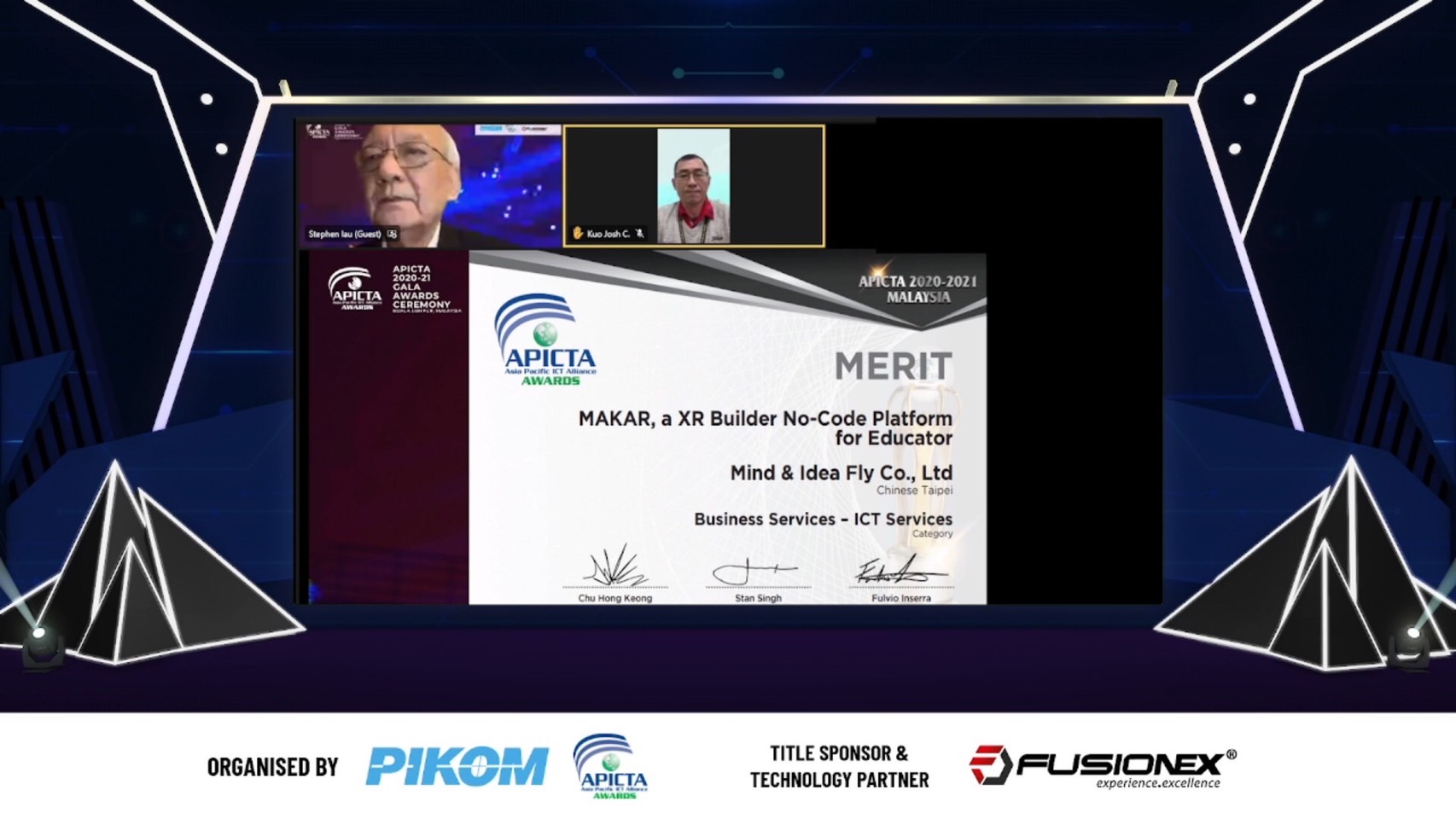 (screenshot from APICTA Awards online ceremony)
About APICTA Awards
APICTA, Asia Pacific ICT Alliance is the most influential Information and Communication Technology industry organization in Asia-Pacific. Established in Malaysia in 1999, and currently consists of 16 economies, including Taiwan, Australia, Brunei, China, Hong Kong, Indonesia, Macau, Malaysia, Myanmar, Pakistan, Singapore, Sri Lanka, Thailand, Vietnam, Bangladesh, and Japan. These 16 economies will be the region with the fastest growth rate in population and GDP in the near future. They will also be the major markets for Taiwanese manufacturers to develop diplomatic trade.
Every year, the member economies compete to be the host of the APICTA Awards. It is a well-known competition in the information and communication industry in the Asia Pacific. It has been hosted for 19 sessions continuously since 2001. The APICTA Awards 2020 was postponed and combined together with 2021 because of the COVID-19 pandemic, and it has been renamed to [2020/2021 APICTA Awards], which was held online from 1
st
November to 15
th
December 2021 in Malaysia.
The APICTA Awards competition was conducted in English and divided into 5 categories based on the application of the product including end customer applications, community services, industrial applications, business services, government, and public services, etc. In addition, enterprise teams may choose additional technology application category (Big Data Analysis, Internet of Things application, or Artificial Intelligence) or across different categories (New Ventures, R&D). Winning awards in this competition not only represent being considered recognized by experts in different economies in information and communication industry but also represent getting a ticket to global cooperations. Giving the opportunity to get the recognition of member economies bids and venture capital investments. For corporates that lack global marketing resources, it brings many benefits.