"Burn That AD!" Buger King app let users burn its rival by ARtech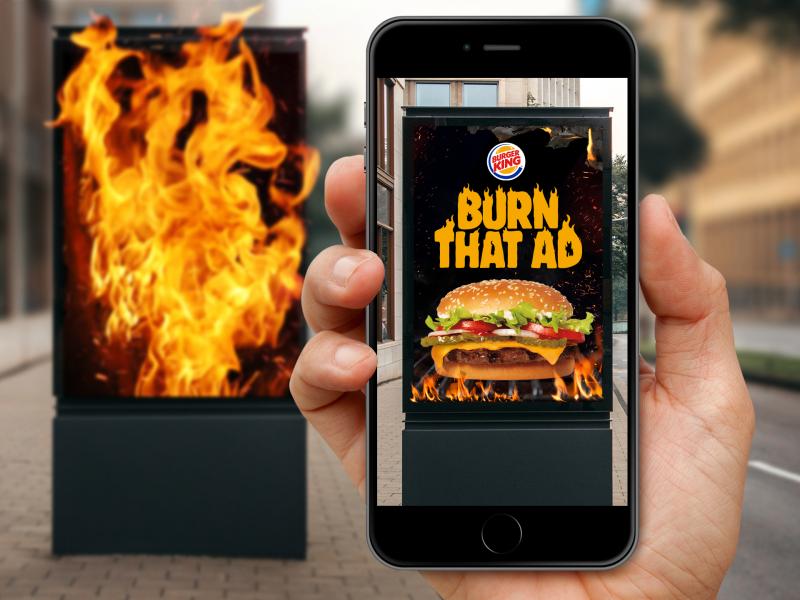 Do you think this is an AD from McDonald's?
Completely opposite! This was the creation from Burger King in Brazil in 2019, McDonald's rival fast restaurant.
Burger King called for people to download and open their apps to burn McDonald's AD. Flaming targets are mainly focusing on all kinds of McDonald's ADs, whatever the outdoor digital walls, traditional canvas billboard on the national highway, ADs next to buses, even social media posts, google image searches, coupons,etc.
Users just take the phone and target at ADs, the AR flames will spring out and burn all McDonald's hamburgers. #i'mburnin'it
After that AD "burned away", it turned into Burger King's AD, and people will receive a free whopper as reward.

There are hundreds of digital marketing methods, and Burger King chose to use AR and connect it to the app, which successfully brought out 10 million downloads in Brazil.
The awesome points about its digital application including:
1. The visual of AR flames convey the deliciousness of BK's whopper with its flame-grilled feature. Burger King uses augmented reality's visual technology cleverly to consolidate this concept to the users, and bring a brand new surprise.
2. The brand-new surprise with AR tech makes app users feel "This is freaking cool!". Therefore, people start to download App then use this feature hunting McDonald's overall, and sharing on their social media and in personal life, which helps the campaign spreading instantly and increases Burger King's SOV automatically.
3. Users will sustainably search for McDonald's in order to redeem the free burger, which increases the stickiness of the Burger King's app successfully.
4. These free vouchers can lead into the restaurants, generating buzz and other revenue such as coke, french fries or combos.
Using AR features to create your comprehensive ad, and creativity is everywhere!