Germany Burger King wins the fast food war with AR game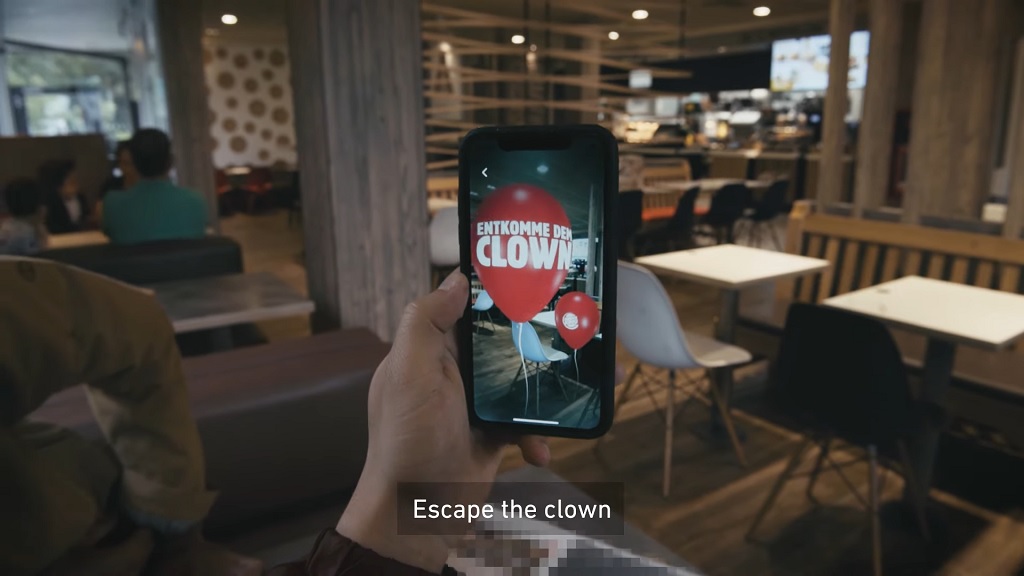 image:Burger King
Inspired by 《It:Chapter 2》, Burger King introduces a LBS AR activity -
「Escape the Clown」
in Germany to taunt their biggest competitor, McDonald's.
AR activity「Escape the Clown」
《It:Chapter 2》 is a movei adaptation of Steven King's famous novel. The horrific antagonist is a demonic clown that feeds on people's emotion of fear. Coincidently, McDonald's famous mascot Ronal McDonald carries such resemble at appearance. Burget King uses this AR game to taunt and create a bizzare connection in between these two famous characters,
How to experience「Escape the Clown」
Step1 - Download「BURGER KINGR」,fo to a MCDonald's restaurant and pick up a McDonald's magazine, then flip to speific page and start scenning with your device.
Step2 - after scanning, tap on 「Escape the Clown」button,tap on the balloon. Each ballon represents a discount voucher.
Step3 - proceed to a Burger King restaurant to exchange for a meal set within spcific time. The voucher will disappear if the exchange is not made within time.
The gameplay creates a phenomenon of running away from McDonald's (Clown), which is what happens in the movie too. This not only creates a trend in romoting the brand and it is something that brings laughter to the movie fans too.
If you are thinking about organizing an activity but feeling lost at how to attract crowds, come talk to us, we may have an ARVR solution to help you.
contact us - sales@miflydesign.com
source:Trampuncle、BURGER KING